Your dreams here
will be bigger
than the Seven Seas.
The Kaiwomaru is called the "Lady of the Sea."
Kaiwomaru Park, centered around the pure white ship,
is a bayside area where people gather,
learn, and relax.
Please enjoy the romance of the sea while taking the refreshing sea breeze.
Guide to Kaiwomaru Park

The more you learn the sea,the more you like the sea.
Sailing Ship Kaiwomaru
The Kaiwomaru began as a merchant training vessel.
Since February 14th, 1930, she has sailed 1.06 million nautical miles(50 times around the world), and raised 11,190 young sailors.
At Kaiwomaru Park, the Kaiwomaru is open to the public in its original active service form.
It is decked out in full sail 10 times a year -- Don't miss it!
Learn more
Japan Sea Center
This was established to deepen understanding and knowledge of maritime culture.
With models of vessels from around the world and exhibits about oceans, ports, and ships, it is a good base for learning about the sea.
Understand the language of birds and plants.
Bird Park
This seaside bird park was created to offer a place to interact with wild birds.
A pond, reed beds, and trees provide suitable habitats for wild birds, and with 152 species that come through the four seasons, it has indeed become a bird sanctuary.
You can enjoy nature and observe the wild birds from the observation center, cabin, or bird blinds, while listening to the explanations of the bird experts.
Bird-watching outings and lectures are also held.
Connect with your community.
The bayside is a great gathering spot with views of the Kaiwomaru, sea breezes, and green lawns.
With a large event space and nice places for barbeques, this area is bustling with families and groups.
Play until the sun sets.
Shouts of joy fill the air.
There is exciting play equipment and a track for racing radio-controlled cars.
For a more romantic atmosphere, we recommend the waterfront.
Waves of Rope
Waterfront
RC Car Track
Eat plenty of fresh food.
Enjoy the fresh seafood of the Japan Sea throughout the year. You can also stop by the souvenir shops and the sightseeing boats that go around the harbor and Uchikawa's bridges.
Ai-no-Kaze Restaurant
TEL 0766-82-7257
Shinminato Sightseeing Boat
TEL 0766-82-1830
FELISCENA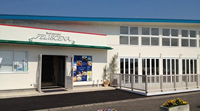 TEL 0766-84-3377
Marine Shop Wind
TEL 0766-84-6901
Japan Sea Center/
Piccolo Matsuki Café
TEL 0766-82-4541